Description
Buy Astro Slide 5G Transformer 8Gb/128Gb Dual SIM - Factory Unlocked (North American Variant)

Astro Slide is the first 5G smartphone with a keyboard and is the fastest 5G device announced to date.  Astro's revolutionary RockUp™ slider hinge transforms the powerful 6.39" touchscreen smartphone into a mini laptop, featuring Planet's signature tactile backlit keyboard.
Astro Slide Is great for emails, messaging, editing documents, making calls and taking snaps. Astro's 5G communications offer fastest upload and download speeds for true productivity on the go.  Astro Slide runs Android 11 OS with a multi-boot option for supporting Linux.  Perfect as your daily driver!

Quick Facts
First 5G handheld device with full physical keyboard
RockUp™ slider hinge mechanism combines all the power of a mini laptop  with the functionality of a smartphone
Device features a large AMOLED 6.39" touchscreen display and a 48MP camera
Astro runs Android 11 and also supports Linux OSs, with a multi-boot option
Big enough to be the only device you need to carry, and small enough to fit in your pocket, it's a true all-in-one replacement for both your mobile phone and your laptop

The Planet story enters a new era...
At Planet Computers, we never stop innovating. Over the past two years, we have delivered our award-winning Gemini PDA and Cosmo Communicator devices to over ten thousand backers, who supported our mission to kickstart a new mobile computing revolution.
The revolution continues as we embrace the latest mobile technologies and trends, coupled with our passion for typing, writing, creating on the go.
We are extending the range of Planet devices with the brand new Astro Slide, our flagship 5G transformer smartphone.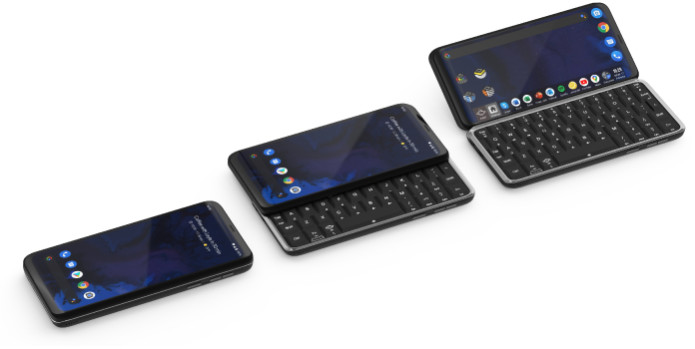 Once again, we have listened to our backers, who wanted more power, a large touchscreen always accessible, but also want to easy access to Planet's signature backlit keyboard - without compromise.
We are fully embracing the power of 5G, and we decided to go "all in" to provide the ultimate 5G keyboard experience on the Astro. To have a smartphone that can transform into a pocket computer with simple thumb action is truly a leap in usability and functionality – great for both work and play.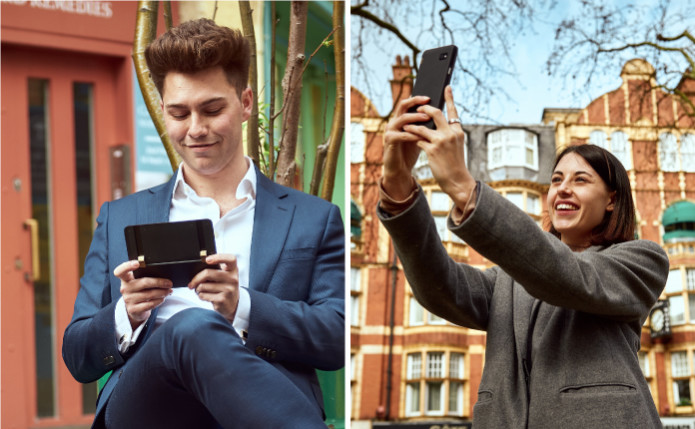 It's the ultimate in mobile design, power and usability.
Astro Slide is the first of Planet's transformer smartphones with a large 6.39" touchscreen display.  Featuring Planet's revolutionary patented RockUp slider hinge, Astro Slide reveals Planet's signature keyboard at the push of thumb.
The display gently tilts up to the optimal viewing angle transforming Astro into a powerful pocket computer.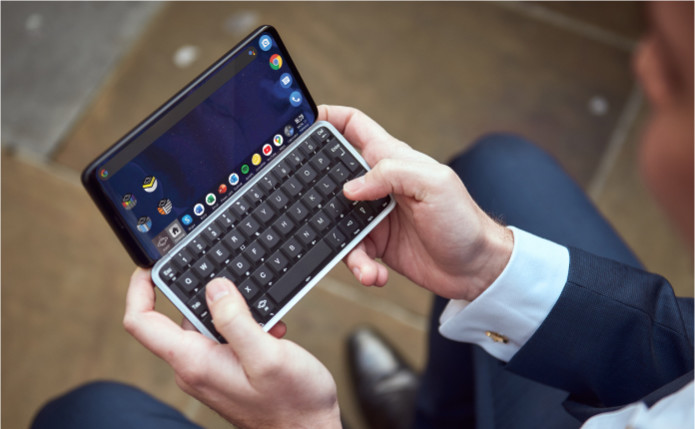 Astro Slide gives you the freedom to write, create, animate, communicate and be entertained in one familiar form factor.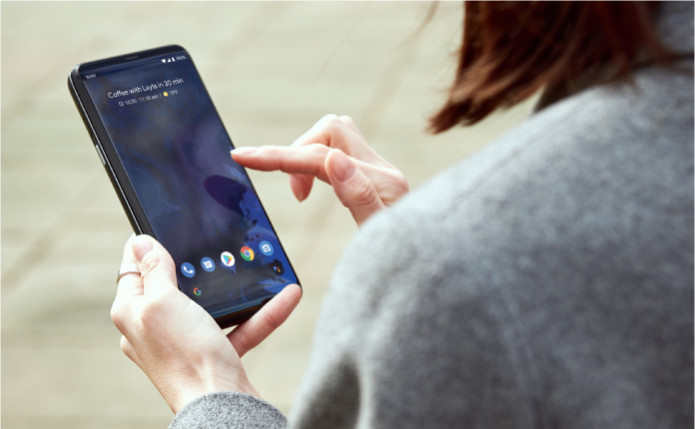 Astro Slide is the first 5G phone device with a keyboard to be announced to date. Powered by MediaTek's Dimensity 800 chipset with 8 super-fast cores plus advanced GPU and APU processors, it offers twice the performance of other 5G chipsets with significantly reduced power consumption, achieving download speeds of up to 2.39 Gb/s.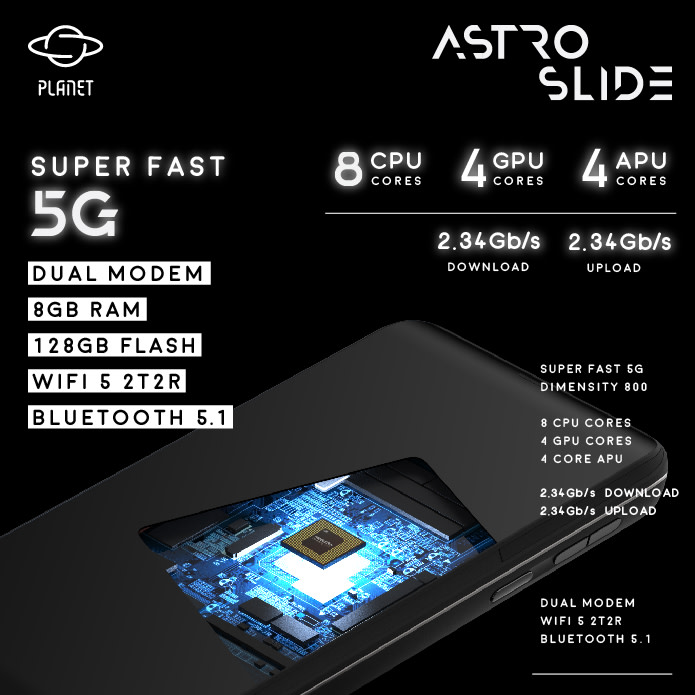 Astro Slide's battery will power a user through an entire day of work and play.
Astro Slide also features Wi-Fi , Bluetooth 5,1 and NFC communications and wireless charging. Astro has a 48-megapixel rear facing Sony-sensor camera as well as a front camera for video calling.
A revolution in design
The Astro Slide and its RockUp™ hinge slider mechanism have been designed by Martin Riddiford.
Martin is the inventor of the clamshell mobile device and the designer behind all the Psion and Planet devices to date.
Astro Slide has a truly revolutionary design, offering the convenience of a smartphone, as well as laptop keyboard productivity – beautifully crafted in one device – all of it in the palm of your hand. It's a no compromise solution and perfect as your daily driver.
Planet's signature backlit keyboard allows you to comfortably work at night or in dark spaces such as on long plane journeys without the need of external lighting.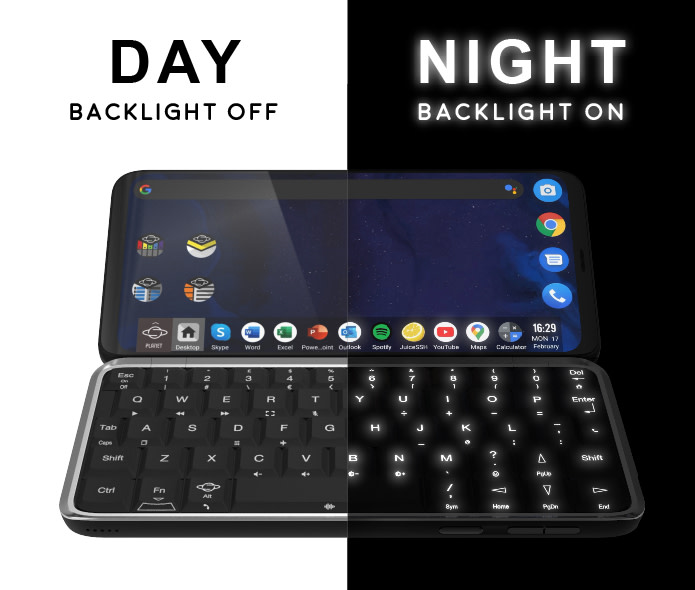 Key features
We've designed the Astro Slide to have all the features you need:
A newly-designed integrated physical backlit keyboard
A large 6.39" AMOLED touchscreen display with Gorilla glass
A hi-res 48MP rear camera
8GB of RAM and 128GB of Flash storage
Fingerprint sensor and smart toggle button for security and control
NFC for payment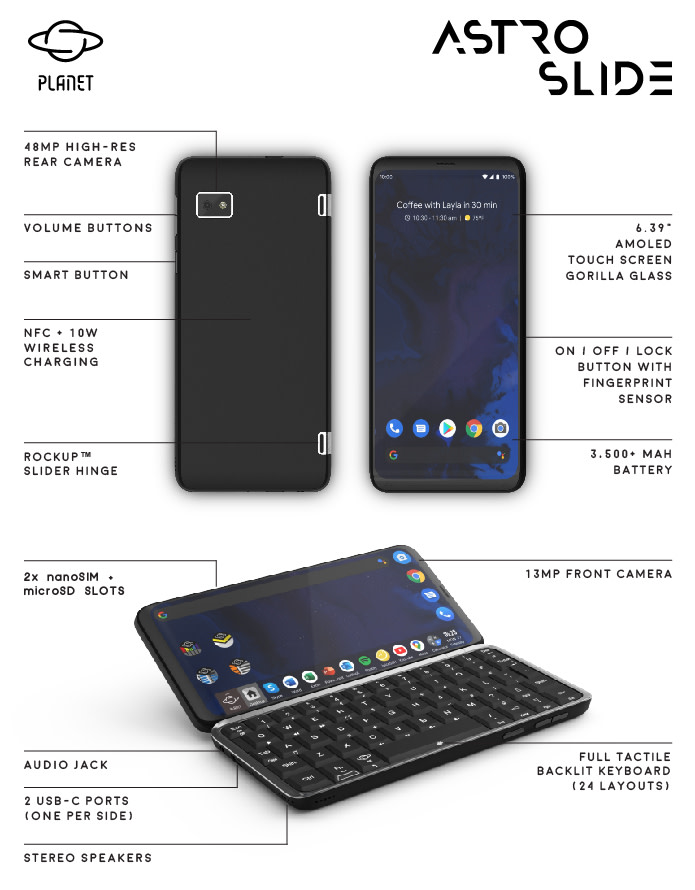 Other features of Astro Slide include:
Fingerprint sensor
2x Nano SIMs and 1x eSIM 
8GB RAM and 128GB of internal memory
a MicroSD slot for additional storage
2 USB-C ports and an audio jack
Software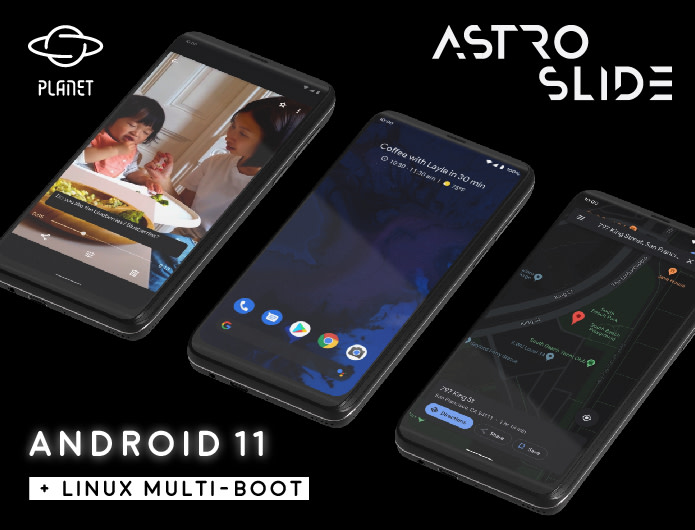 Astro is designed to run the latest Android 10 OS and all you favourite apps, as well as Linux-based operating systems with a multi-boot option.

You can easily run Microsoft Office for Android apps , such as Word, Excel, Powerpoint and Outlook , as well as Planet's own PDA software suite including the Agenda calendaring app, Notes app for notetaking and dictation, the Data database app and our email client, Airmail.

Technical Specification
Network
Mobile Modem: Dual 5G + 4G Worldwide
Mobile Radio: 5G / 4G / 3G / 2G
5G NR: Band 1, 3, 28, 38, 41, 77, 78, 79
GSM: 850/900/1800/1900MHz
CDMA: 850/1900 MHz BC0 BC1+ EVDO
WCDMA FDD: Band 1, 2, 5, 6, 8
VoLTE: VoLTE, ViLTE, VoWiFi compatible
LTE FDD: Band 1, 2, 3, 4, 5, 7, 8, 12, 17, 18, 19, 20, 26, 38, 39, 40, 41, 66, 71 / TDD 34, 38, 39, 40, 41
WiFi: Wi-Fi 5 (2T2R) 802.11a/b/g/n/ac
USA: Tested on T-Mobile, AT&T and Verizon networks
Display
Type: 6.39" FHD+ AMOLED (13:6)
Resolution: 2340x1080, 403 ppi
Multi-Touch: Yes
Protection: Scratch-Resistant Gorilla Glass
 Platform
OS: Currently supporting Android OS.
*Planned support for Sailfish, Linux Debian and Linux Kali.
Chipset: MediaTek Dimensity 800
Memory
RAM: 8 GB
Flash: 128 GB
Card Slot: microSD
Sound
Speakers: High quality stereo speakers
Microphone: Ambient noise suppression microphones
3.5mm Audio Jack: Yes
Comms
Bluetooth: v5.1
GPS: Yes, with AGPS
USB: 2x USB Type-C, OTG support
NFC: Yes
SIM
2x nano SIM + eSIM
Body
Form Factor: External Screen Slider with full mechanical keyboard
Dimensions: 172.4 x 76.5 x 18.7mm
Weight: 325g
Battery
4,000mAh
Cameras
48MP External (Sony sensor), 13MP Internal
Features
Keyboard: Mechanical full keyboard
User Programmable: Customise Key functions, choosing between opening an app, system functions, character or emoji input.
Backlit: Individually illuminated keys, with brightness adjustment
Keyboard Layouts: Arabic, Brazilian, Chinese, Czech, Croatian, Dvorak, Finnish, French, German/Austrian, Greek, Hebrew, Hungarian, Icelandic, Italian, Japanese, Korean, Norwegian/Danish, Polish, Portuguese, Russian, Spanish, Swedish, Swiss, Thai, UK English, US English.
Smart Button: User programmable - set to open apps or do system functions.
Sensors: Accelerometer, light sensor, gyroscope, magnetic-sensor
Fingerprint Reader, NFC, Wireless Charging: Qi (10W)
Payment & Security
Your payment information is processed securely. We do not store credit card details nor have access to your credit card information.